On July 15 2010, an excited group of office workers, industry leaders, politicians, researchers and planners gathered on an inner-city rooftop to unveil one of Melbourne's first green roofs. Perched high above the rumble of trams, the heave of midday foot traffic and the buzz of busy laneway cafes, this influential group had equally high hopes for this new green roof. Melbourne's 'Future Focus Group' intended it to be "blueprint to green-roof Melbourne", part of their plan to increase Melbourne's resilience to climate change. Researchers from the University of Melbourne were hopeful monitoring equipment, a rooftop water collection and irrigation system and a micro weather station would give them an insight into the environmental benefits of green roofs which might ultimately provide reliable data on the efficacy of green roofs in reducing the urban heat island effect, improving air-quality and minimising stormwater run-off - all important parts of creating a more resilient city. The industry leaders who had donated money and resources to the project hoped the green roof would improve Melbourne's reputation as a centre for biotechnology, creativity, research and development, and culture.
So, has it achieved these lofty ambitions? Eight years later we take a look at the Growing Up green roof and explore whether this pioneering green roof has lived up to expectations. Is it still green? Are people using it? Is this a blueprint to greenroof Melbourne?
Is the green roof still green?

You may have seen some failed green roofs and green walls around. It's difficult to maintain a thriving garden in limited substrate and challenging environments, and the science of living roofs and walls is still young - there's still a lot to learn! So, after 8 years, we are delighted to say that Growing Up green roof is still very much green.
A variety of plants were chosen for the Growing Up green roof: reliable natives like Kangaroo Paw and Banksias, an edible array of fruit, veggies, herbs and spices, varieties that laugh in the face of droughts and dry conditions like sedum, and aloe, flowering and fragrant varieties to attract birds and bees (and delight visitors) such as lavender and native daisies and creepers like Happy Wanderer and Wisteria. These plants were selected to be low-maintenance and hardy.
Since then, the central hill has blossomed into a grassy knoll, the arbours are dripping with blossoming creepers and wisteria and the planters surrounding the edge of the roof top are overflowing with succulents, flowers and aromatic bushes, attracting a variety of birds and insects to this high-rise buffet. The body corporate employed a horticulturalist once a fortnight to maintain the rooftop garden and she is doing a wonderful job of keeping all of the plants healthy and happy.
The body corporate employed a horticulturalist once a fortnight to maintain the rooftop garden and she is doing a wonderful job of keeping all of the plants healthy and happy.
Are people using the rooftop garden?

We designed Growing Up green roof to be a place for retreating and relaxing — a peaceful green oasis in the centre of the city. With the occupants of the building in mind, we created an inhabitable rooftop garden as opposed to an extensive green roof. Growing Up is an intensive green roof which has all the benefits of a green roof, but can also be actively used by people - this is one of our key principles of green roof design and it's why we design intensive green roofs, not extensive green roofs. A central landscaped hill is surrounded by a circulation space which expands and contracts to create a series of spaces suitable for a range of different activities. There's seats for one or two, a nook covered by a gazebo for small groups and a larger amphitheatre space for larger gatherings.
It follows, then, that a key metric to the success of this project was whether occupants embraced the green space. Were office workers taking their sandwiches up to the rooftop to catch some lunchtime rays? Do colleagues gather under the gazebo to gossip in the fresh air instead of around the water cooler in the hermetically controlled workspace? Was the amphitheatre seating used for presentations and group discussions?
The answer is a resounding yes!
The rooftop garden is a popular place with the building's occupants and is used throughout the day for a variety of activities. Rather than battle the busy footpaths, many workers choose to relax on the rooftop surrounded by the sights and smells of nature. It's also used for catchups and informal meetings - a welcome excuse to step out of the office for a while. The ground floor cafe utilises the productive garden for its menu. Anecdotally, this access to green space has not only created a community within a multi-storey building (no mean feat) but it has also improved the occupants' sense of well-being and improved productivity - it's amazing what a little dose of sunshine can do to lift your mood, right?
How is Growing Up green roof being used as a blueprint to green-roof Melbourne?

Armed with the experience and knowledge stemming from Growing Up green roof, our very own Merran Porjazoski was involved with the development of the State Government's Growing Green Guide: A Guide to Green Roofs, Walls and Facades, which establishes guidelines for green roofs and walls in Melbourne and Victoria. Combined with the lessons from Growing Up and other green roofs in Victoria, the guide offers a range of advice about plantings, research-based data about the benefits of green roofs and technical information about how to retrofit a green roof on an existing building or implement a green roof on a new building. It also includes case study projects for green walls and roofs designed specifically for the Growing Green Guide, all of which were designed by BENT Architecture. This guide benefits the whole community, enabling organisations and individuals to assess the costs and benefits of green roofs. As a case study for the Growing Green Guide, the Growing Up green roof has become a blueprint to green-roof Melbourne and since its construction in 2010, we have many more green roofs growing up on our skyline.
To read more about the inception and concept behind this inner-city green roof, head over to our Growing Up green roof project page.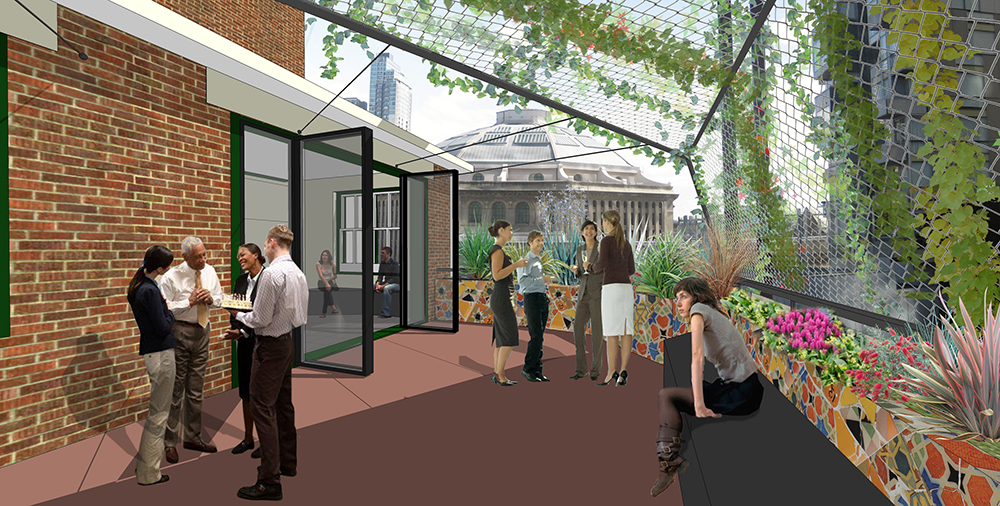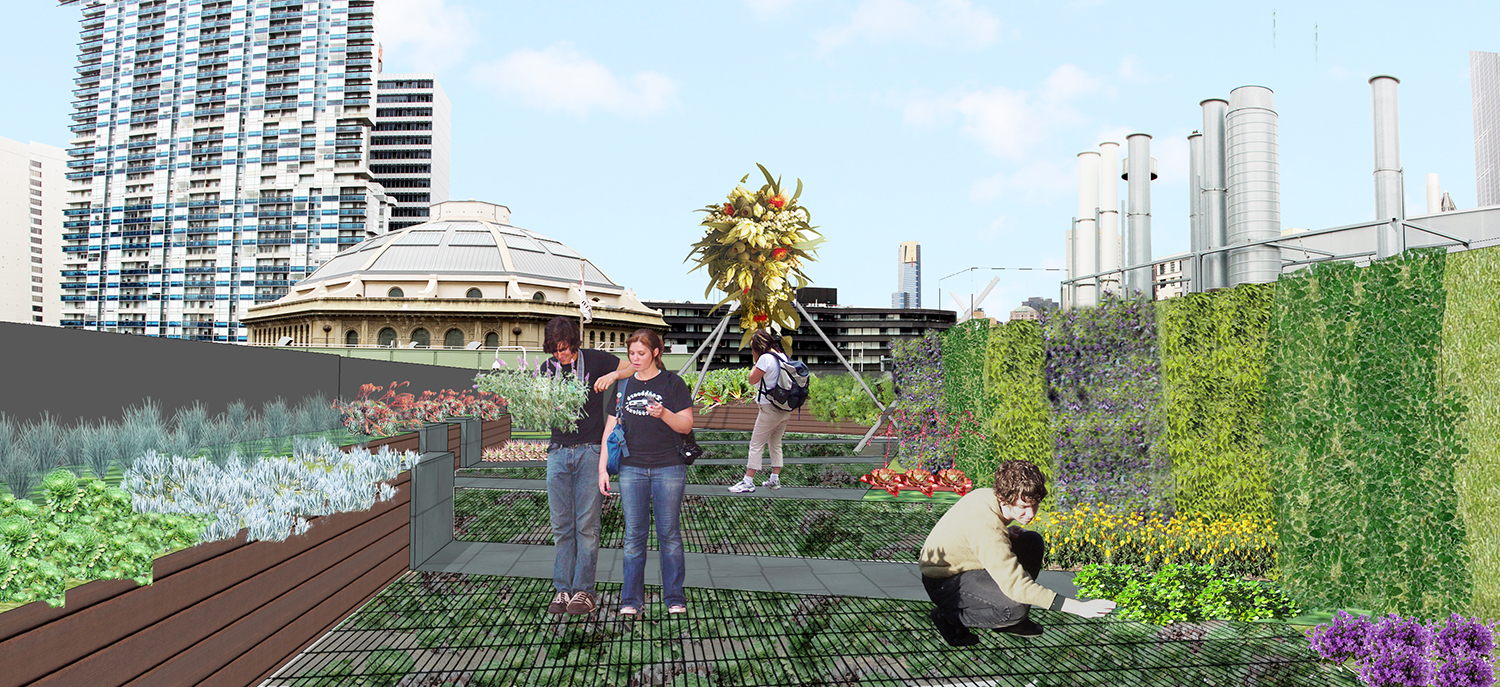 Commissioned as a case study for the Growing Green Guide for Melbourne Project, the rooftop of this educational facility is not only a demonstration of the environmental benefits of retrofitting a green roof, but provides an extensive outdoor learning area for landscape architecture students with opportunities for scientific monitoring of rooftop plants and substrates.